Teaching Improvisation Using Spirituals and Early Blues
with
Cellist Renata Bratt
Sunday, October 30th, 2022
2:00-5:00pm

Location TBA

Fee:$15 STXSA Members
$50 Non-STXSA Members
Using African American Spirituals and blues tunes from the beginning of the twentieth century, learn and teach your students improvisation skills step by step through rhythmic variations, scales, arpeggios, chords and conversational blues, jazz phrases and melodic quotation. 
Bring your instrument. Music provided in treble, alto and bass clefs. All instruments are welcome. (Please let us know if you need music in a transposing clef.)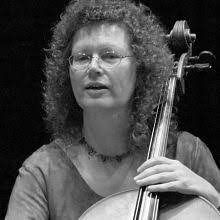 Renata Bratt has taught classical styles, jazz improvisation and fiddling at national string workshops for children and adults, including the Mark O'Connor String Conference, Alasdair Fraser's Sierra Fiddle Camp, Valley of the Moon Scottish Fiddling School, New Directions Cello Festival, the National Cello Institute, IAJE, ASTA, MENC and Suzuki institutes and conferences. She is a past president of the Suzuki Music Association of California and the International Association for Jazz Education String Caucus. Ms. Bratt received her Ph.D. in Music from the University of California at San Diego.
She has performed with luminaries such as Liz Carroll and John Doyle, Darol Anger and Alasdair Fraser, and played back-up with Jimmy Page and Robert Plant, David Sanborn, Lyle Lovett and Dionne Warwick. Rolling Stone dubbed her an ""ace performer"" for her work recording and touring with alternative rocker Cindy Lee Berryhill's Garage Orchestra.
In addition to publishing orchestra music with Alfred, Renata is the author of The Modern Cello Method, The Fiddling Cellist and Celtic Grooves for Two Cellists for Mel Bay Publications. Her CDs Great Big Taters and Jazz Trio 2006 are available through CD Baby.