The Twenty-Fourth Annual Ribbon Festival
Saturday, December 5, 2020 9am-2pm
Our Winter 2020 Ribbon Festival will be an opportunity for students to have a positive online performance experience that will be adjudicated by an expert panel of music teachers. Students will perform live via Zoom during a designated studio time slot. After their performance, students will receive a written critique from a clinician, giving them positive feedback on their performance and also ideas for further progress and improvement.  Every student participating receives a medal on a colorful ribbon that they can wear as a symbol of their achievement.
Co-Chairs/Coordinators: Meredith Harris, Juliette Javaheri and Aimee Peterson
Date: Saturday, December 5, 2020
Online Application Deadline: Monday, November 9, 2020
Time:  9:00 AM – 2:00 PM CDT (Students must be available for this entire time slot. We will notify students ahead of time with their actual performance time.)
Place: Online via Zoom. Zoom link will be sent prior to the event.
Fee:   $15 for STXSA members, $33 for non STXSA members.
Applications for Winter Ribbon Festival Have Now Closed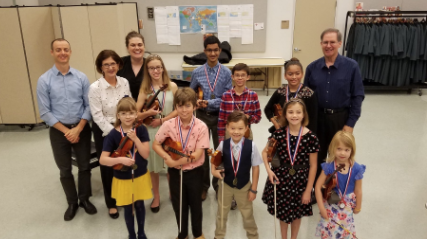 After you have submitted the Google Form above, please select the Member Price ($15) or Non-member Price ($33) below. Click here to join STXSA for $18!
Use the drop down box below to select yor price based on Membership Status. Paypal will open in a new window when you press Add to Cart. If you would like to make a donation, please return to this page, select donation, and then press Add to Cart. Thank you!