Choose Your Own Adventure Workshop
October 30th, 2021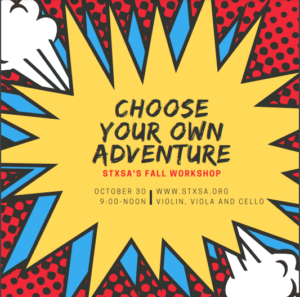 Who? Suzuki violin, viola, and cello students of any level! (Other instruments may participate in the play-in and enrichment classes but will not have classes specifically for their instrument.) Must have current STXSA Family membership to attend. Login to your STXSA account to check your subscription status or Join Here!
What? STXSA's fall workshop with a choose-your-own classes twist, complete with a play-in, concert, and costume parade! At the workshop, your student will be able to choose their own classes from intense workouts on Suzuki pieces and musical enrichment classes such as Mariachi, fiddling, recorders, crafting practice aids and more! Students of any level can find classes that fit their level and interests.
When? Saturday, October 30, 2021, 9:00-12pm
Where? University Baptist Church, 16106 Middlebrook Dr, Houston, TX 77059
Why? Build your musical skills and have fun with your local Suzuki community!
What will it cost? We're offering three tuition levels for this workshop.
Access price: $55 Select this price if you are experiencing financial hardship

At Cost Price: $65 Covers the costs associated with your student's attendance at the workshop

Pay-it-forward price: $75 For those who would like to give a little extra to sponsor a student at the access price. (If you'd like to give extra to help STXSA cover this event and continue to provide great events for your students, you can visit

https://stxsa.org/donate-to-stxsa/

)
Parents, please bring a lawn chair. Weather permitting, we will hold our larger group activities (play-in, final concert, and costume parade) and recorder classes outside in the pavilion.
Masks are required for all indoor portions of this event and encouraged for the outdoor concerts. Thank you for helping us protect more vulnerable STXSA members so that they can participate in events this year.