The following events are not organized by STXSA but are available to STXSA members and Suzuki families in the community.
We offer classes in violin, viola, cello, bass, piano, SECE, harp, flute and voice

This year we are adding Boogie with Bach and Movie Themes for Orchestra to our palate of 8 student electives

We will have an ice cream social and a Downtown Scavenger Hunt

One-week and two-week chamber music programs

Scholarships and discounts are available for students
Some Teacher Highlights:

We are one of the few Suzuki institutes that will premier the new SAA Teacher Training Course called "Teaching Strategies."


We will be adding Suzuki in the Schools, Level 1 to our wide array of teacher training courses.  

Brian Lewis will have an enrichment class on the Bach Violin Sonatas and Partitas.  

Carey Cheney will give two cello teacher training classes

In addition to the classes listed above, we will offer ALL the violin teacher training units, ECC!, Flute Unit 1, Voice Unit 1, Bass Unit 5, Viola Unit 5 and Violin and Harp Practicum.

Scholarships are available for teachers who enroll in teacher training courses
Parent Highlights:  Daily parent lectures
Gabriel Bolkosky, Violin, and Mikaela Schneider, Voice, Week 1

Carey and Elliott Cheney, Cello Duo, Week 2
Come to where it all began...  Be a part of Suzuki history!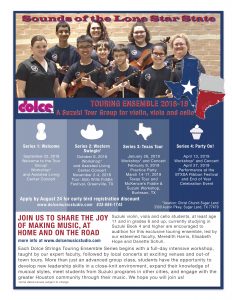 Dolce Strings Touring Ensemble gives Suzuki violin, viola and cello students in 6th grade/age 11 and up, studying in Suzuki Book 4 and higher, the opportunity to learn and polish advanced literature in a group setting, perform exciting concerts and take fabulous trips to wonderful places! Click here for more info.
Dolce Strings Touring Ensemble application 2018-19
The Group Experience is a unique set of 4 mini-workshop group classes and concerts held throughout the school year. They have the unique opportunity to observe the Touring Ensemble and join them occasionally on local concerts. Open to all Suzuki violin, viola and cello students of all ages and levels. Click here for more info.
The Group Experience - Dolce Strings application 2018-19
---
Past Events